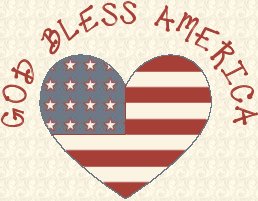 and
The Men and Women Who Serve
in Our Armed Forces!
Psalm 91 Prayer for America
and Our Armed Forces
May America and all the men and women
who serve in our armed forces dwell in the
secret place of the Most High and abide
under the shadow of the Almighty.
May we all say of the Lord, He is our refuge
and our fortress; our God, in Him we will trust.
May He deliver us all from the snare of the
fowler, and from the noisome pestilence.
May He cover us all with His feathers, and
under His wings may we all trust; may
His truth be our shield and buckler.
May none of us be afraid of the terror by
night; nor of the arrow that flies by day;
Nor for the pestilence that walks in darkness;
nor for the destruction that wastes at noonday.
A thousand might fall at our armed forces side,
and ten thousand at their right hand; but may
harm not come near any of our men and women
in the armed forces.
Only with our eyes shall we behold and see the
reward of the wicked.
May we all make the Lord, our refuge, even
the Most High, our habitation;
So that no evil can befall any of us, nor any
plague come near our dwelling place.
May we all trust the Lord to give His angels
charge over us, to keep us in all our ways.
May His angels continually bear us up in their
hands, lest we dash our foot against a stone.
May we tread upon the lion and the adder; the
young lion and the dragon may we trample
under our feet.
May we set all our love upon God, so that He
can deliver us; so that He can set us on high,
because we have known His Name.
When we call upon the Lord with sincere
and repentant hearts, He will answer us.
He will be with us in trouble; He will deliver
us, and honor us.
He will satisfy us with long life, and
show forth His salvation for all the world
to behold.
We lift this prayer up to you, Loving
Heavenly Father, Beloved Savior,
and Precious Holy Spirit ... May
Your Name be glorified!
Amen
"If My people, which are called by My Name,
shall humble themselves, and pray, and seek
My Face, and turn from their wicked ways;
then will I hear from heaven, and will forgive
their sin, and will heal their land."
2 Chronicles 7:14
Site Guide
a list of all the pages on this site
Credits:
Background Set by
Music: My Faith Looks Up To Thee
Midi provided by Laura's Midi Heaven
Counter provided by The Christian Counter
trustingintheword.net
Copyright ©2001-2005 All rights reserved