............ God Bless America ............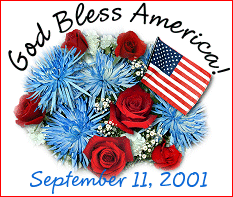 "Weep with those who weep." Romans 12:15
"The Lord comforts us in all our tribulation, that we may be able
to comfort them which are in any trouble, by the comfort with
which we ourselves are comforted of God." 2 Corinthians 1:4

Our hearts and prayers go out to all those who lost their precious
loved ones in the terrible terrorist attack of September 11, 2001.
May you continually feel the loving arms of God Almighty enfolding
you and comforting you with a comfort that far surpasses your pain.

We also want to say that we are so grateful to our Jewish brothers
and sisters for reaching out to us with their love and comfort
because they know from their own experiences what it is like to
have their homeland invaded by those who don't like them and want
to do them as much harm as possible. Maybe we didn't completely
understand in the past what you have been going through - but we
certainly do now. We appreciate you mingling your tears with ours
over the unexpected loss of so many of our loved ones. You know
this ache of the heart all too well for you have experienced it many
times yourself. We gladly join our prayers with yours for an end
to such inexcusable terrorist attacks on both of our nations.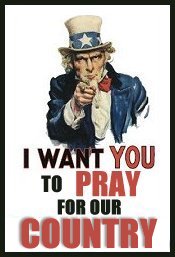 "If My people, which are called by My Name,
shall humble themselves, and pray, and seek
My Face, and turn from their wicked ways;
then will I hear from heaven, and will forgive their
sin, and will heal their land." 2 Chronicles 7:14
"And it came to pass, that I sat down and wept,
and mourned certain days, and fasted, and prayed
before the God of heaven. And said, I beseech You,
O Lord God of heaven, the great and awesome God,
that keeps covenant and mercy for them that love
You and observe Your commandments: let Your ear
now be attentive, and Your eye open, that You may
hear the prayers of Your servants, which are prayed
before You now, day and night. We confess that we
have all sinned against You. We have dealt very
corruptly against You, and have not kept the
commandments, nor statutes, nor the judgments,
which You commanded of us. Redeem us by Your
great power, and by Your strong Hand. And grant
us Your mercy." Nehemiah 1:4-11

A Prayer for America and our Armed Forces




Music: The Lord's Prayer

Site Guide
a list of all the pages on this site

Credits:
Background Set by Pat's Web Graphics
Prayer Banner by Caleb's Country Corner
Scripture Plaque by Teaapots Graphics
Midi provided by New Song Online
Counter provided by The Christian Counter
trustingintheword.net
Copyright © 2001-2006 All rights reserved